RYDER CUP HOTELS & PACKAGES
---
---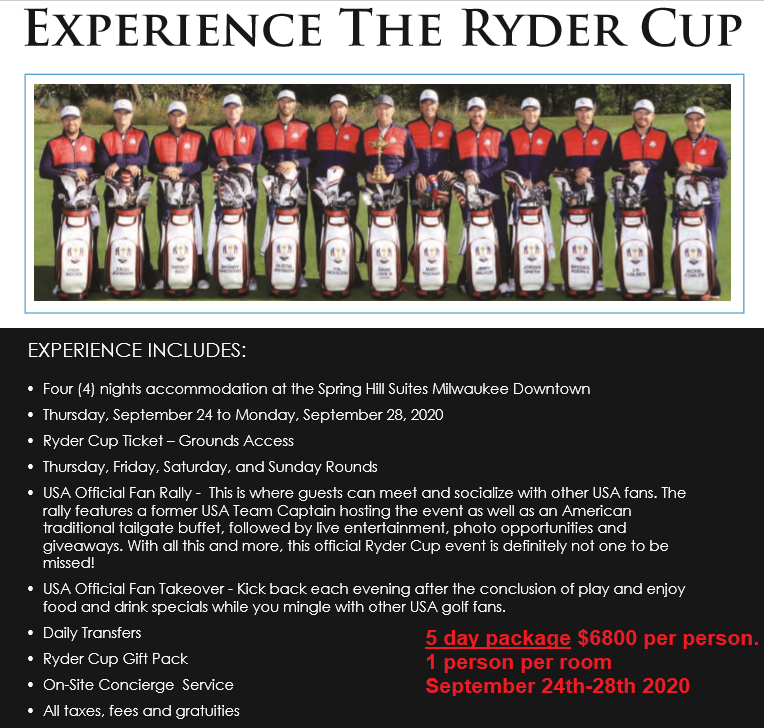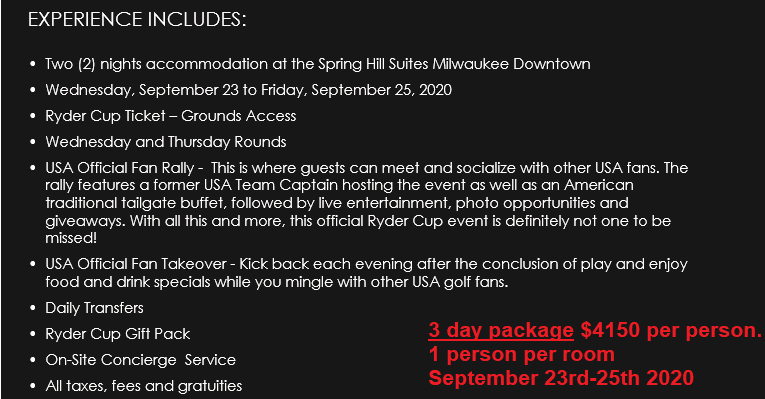 Friday 25th to Sunday 27th September 2021
2021 Ryder Cup Experiences
Ryder Cup 3-Night Experience
Fri 25th - Mon 28th September 2021
3 Nights accommodation (Hyatt Place - Downtown Milwaukee)
Ryder Cup Tickets (Saturday & Sunday)
Ryder Cup Gift
Daily Ryder Cup Transfers
Car Hire
£2,919.00 per person (based on 2 sharing a room)
£760 single supplement
*Extra night available at £170 per person sharing
Ryder Cup 4-Night Experience
Thu 24th - Mon 28th September 2021
4 Nights accommodation (Fairfield Inn & Suites by Marriott - Downtown Milwaukee)
Ryder Cup Tickets (Thursday, Friday, Saturday & Sunday)
Invite to a Ryder Cup Evening
Ryder Cup Gift
Daily Ryder Cup Transfers
Car Hire
£4,195.00 per person (based on 2 sharing a room)
£830.00 single supplement
Ryder Cup 5-Night Experience
Wed 23rd - Mon 28th September 2021
5 Nights accommodation (Fairfield Inn & Suites by Marriott 3*, Downtown Milwaukee OR Hyatt Regency Milwaukee Downtown 4*)
Ryder Cup Tickets (Thursday, Friday, Saturday & Sunday)
Invite to a Ryder Cup Evening
Ryder Cup Gift
Daily Ryder Cup Transfers
Car Hire
Fairfield Inn - £4,345.00 per person (based on 2 sharing a room)
£999.00 single supplement
Hyatt Regency - £4,545.00 per person (based on 2 sharing a room)
£1245.00 single supplement
To secure one of these experiences or to discuss tailoring this to include additional nights or golf options, please don't hesitate to contact us at +1 (917)224-1231
Ryder Cup Matches Play Explained
All games are played under Match Play rules, where the result of each game is determined by the number of holes won. The order of play for the first two days is Foursomes in the morning and Fourball in the afternoon. The final day's play will be in Singles format.
Fourball (four groups of two two-man teams) - "Fourball" play is a match in which each member of the two-man teams plays their own ball. Four balls are in play per hole with each of the four players competing. The team whose player has the lowest score on that hole wins the hole. Should players from each team tie for the best score, the hole is halved.
Foursomes (four groups of two two-man teams) - "Foursomes" play is a match where two golfers play together against two other golfers and each team plays one ball. The golfers play alternate shots (player A hits tee shot, player B hits second shot, etc) until the hole is played out. Team members alternate playing the tee shots, with one golfer hitting the tee shot on odd-numbered holes, and the other hitting the tee shot on the even-numbered holes. The team with the better score wins the hole. Should the two teams tie for best score, the hole is halved.
Singles (12 groups of two one-man teams) - "Singles" is a match in which one player competes against another player. A player wins the match when he is up by more holes than there are holes remaining to play.
Pairings - Each Team Captain independently submits the order of play for his Team to the appointed tournament official. The lists from each Captain are matched, resulting in the "Pairings". Please note that the players in pairings can be modified by the Team Captains only if a player is ill or injured. Pairings are subject to change and should not be considered final until play begins for a particular match
---
We now have over 100 Ryder Cup hotel rooms available for the Ryder Cup. We haven't listed them yet. If you're a group, company or serious about booking these hotel rooms now, contact us for immediate hotel rooms bookings! (917) 224 1231 Ryder Cup.
To Book your luxurious Ryder Cup hotel room click on Contact Us, or email: Info@14SB.com or call 917-224-1231
---